The  Pioneers
The list of Sawgrass leaders is long and like every list, it starts with a person who was there at the beginning.
Here are some of the names from Sawgrass' founding:
James R. Stockton,purchased land from National Lead Company during World War II.
James R. "Jimmy" Stockton Jr.,original developer of Sawgrass Country Club.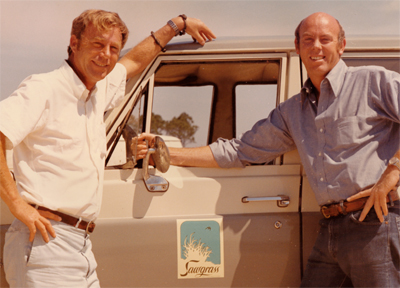 Ed Seay, golf course architect. Seay moved to Ponte Vedra after graduating from the University of Florida and quickly established a strong business. His friendship with Jimmy Stockton helped get the Sawgrass contract. That led to a lifelong partnership with golf great Arnold Palmer, in Palmer Course Design. Seay died in 2007.
Don Cheek, land planner with Reynolds, Smith & Hills. Along with Seay, he is credited with the Sawgrass land plan. He became the Project Manager on the development.
Harold Staub, General Manager. Staub was a Philadelphian who came to Jacksonville to handle marketing for a large dairy. He joined Stockton's company as a vice president and took over the Sawgrass operation when it opened.
Peter Finney, first Club public relations executive.
Bob Ross, Director of Golf. Ross was one of the nation's most prominent club professionals. He was head pro at the Philadelphia Cricket Club and a family matter led him to Sawgrass. He and his wife had two deaf children, and the Florida School for the Deaf and Blind was one of the nation's best. Ross stayed here until 1977, when he moved back to the Northeast to take over the famed Baltusrol Golf Club.
Ron Borenstein, tennis professional.
Peter Rumple, golf club architect.
Bob Broward, tennis clubhouse architect.
Dana Kenyon, primary contractor on all buildings. Son Dana is still active as a contractor.
Hank Adams, real estate sales manager. Later became first broker at Plantation CC at Ponte Vedra.